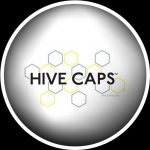 Hive Caps & Hive Cups
Lipiec 11, 2019

Lipiec 11, 2019

pl

https://www.killerinktattoo.pl/skin/frontend/killer/default/images/logo.svg

https://www.killerinktattoo.pl/
Hive Caps are an innovative, hexagonal-shaped ink cap piece for tattooing that are easy to set-up, stable and customisable.
The follow-up to these unique ink caps, Deep Hive Caps, offered artists the same great product, but with the ability to hold more ink within.
In our latest video, we run through the features of both Hive Caps and Deep Hive Caps, as well as the next offering from the brand, Hive Cups.
Hive Cups allow artists to keep their tattoo cartridges from rolling around and drying out thanks to their included support lids. They can also be used to rinse the cartridges when tattooing.
Watch our video below for the full overview on Hive Caps and Hive Cups!