Dermalize Pro - opatrunek foliowy - arkusz 15cm x 10cm
SKU DERMALIZEPRO-SHEETS
Produkt dostępny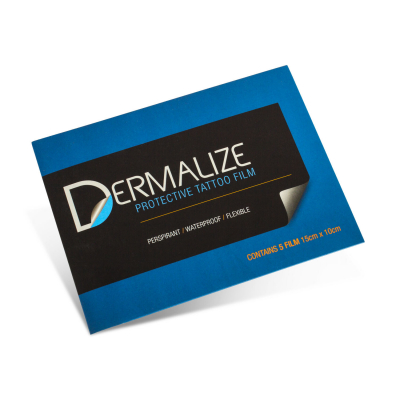 Dermalize to kompleksowe rozwiązanie w zakresie początkowej ochrony i pielęgnacji świeżego tatuażu: powłoka, która działa jak "druga skóra", chroniąc świeży tatuaż przed bakteriami, jednocześnie przepuszczając powietrze i pozwalając skórze oddychać. Powłoka wspomaga naturalny proces gojenia, ponieważ zatrzymuje naturalne płyny i enzymy; gwarantuje to piękne wygojenie tatuażu.
Cienka, samoprzylepna powłoka zapewnia wilgotne środowisko dla gojącego się tatuażu w początkowym, najbardziej newralgicznym stadium. Chroni świeży tatuaż przed tarciem i tworzy wodoodporną barierę antybakteryjną, utrzymującą patogeny i czynniki zakaźne z dala od rany. Powłoka jest "oddychająca", pozwala tlenowi wnikać, a nadmiernej wilgoci parować. Opatrunek jest lekki, elastyczny, rozciąga się, dzięki czemu można umieścić go w każdym miejscu ciała, z pewnością, że utrzyma się tam przez kilka dni. Żadnych więcej strupów, ryzyka infekcji, otarć przez ubrania i innych szkodliwych czynników, które mogą uszkodzić świeży tatuaż. Tylko pięknie wygojony motyw, taki jak sobie wyobrażałeś!
Dermalize wypróbowali tacy artyści, jak Alex de Pase, Randy Engelhard czy Jeff Gogue, testując i używając innowacyjnego rozwiązania przez długi czas i ciesząc się niesamowitymi rezultatami.
Dostawa
Wszystkie zamówienia złożone i opłacone przed godziną 16:00 (w dzień roboczy) zostaną wysłane w tym samym dniu przesyłką kurierską zwykłą lub ekspresową w zależności od wybranej opcji.

Koszt wysyłki uzależniony jest od wymiarów i wagi paczki i wynosi już od 11, 95 EUR (przesyłka kurierska – UPS).Dostępna jest również opcja przesyłki ekspresowej z dostawą w następny dzień roboczy.
Gwarancja
Proszę kliknąć tutaj, aby zapoznać się z zasadami dotyczącymi gwarancji.