Książka: "Coloring", Mike De Vries
SKU BK-MDV-COLORING
Produkt dostępny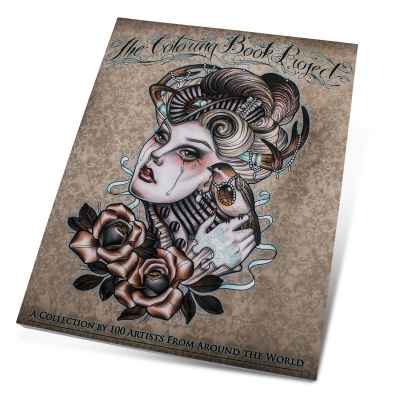 Artyści w każdym wieku mogą dodać do rysunków w tej książce coś od siebie. "The Coloring Book Project: A Collection by 100 Artists from Around the World" to cudowna kolorowanka, łącząca inspirację i pomysłowość topowych artystów, którzy umieścili w niej swoje piękne szkice i Twoją kreatywność; przekazują Ci swoje dzieła, aby zyskały unikalną jakość, przesycone Twoją własną i wyjątkową magią. 215 stron wzorów do kolorowania i innych zadań pozwala przenieść się w cudowny świat sztuki tatuażu i puścić wodze fantazji przy pomocy kredek, flamastrów i długopisów. Kompozycje zamieszczone w "The Coloring Book Project" nie są pomyślane jako flashe, raczej ciekawy sposób oddania hołdu branży tatuatorskiej i niespotykane dotąd narzędzie wyzwalające artystyczny potencjał!
Wśród artystów, których prace znalazły się w tej książce są Don McDonald, Gunnar, Greg "Craola" Simkins, Durb Morrison, Mike DeVries, Jason Stephan, Roman, Josh Duffy, Katelyn Crane, Jeff Johnson, London, Jamie Lee Parker, Sung Song, Steve Morris, Timothy Boor, Timmy B, Whitney Lenox, Mario Rosenau, Kyle Cotterman, Ty McEwen, Danny Black, Brett Herman, Andy Engel, DJ Minor, Jeremy Miller, Julian Zeff, Shawn Williams, Hilary Jane i wielu innych!!
Jeśli zastanawiasz się, dla jakiej grupy wiekowej przeznaczona jest ta pozycja, podpowiadamy - to zależy od Ciebie. Jeśli masz coś przeciwko temu, żeby Twoje dziecko kolorowało czaszki i potworne grymasy, prawdopodobnie to nie będzie najlepszy wybór dla niego. Za to znajdziesz tu całą gamę pięknych motywów czerpiących ze świata tatuażu: róż, ptaków, kotwic, węży, gejsz, robotów, biomechaniki, itp.
Dostawa
Wszystkie zamówienia złożone i opłacone przed godziną 16:00 (w dzień roboczy) zostaną wysłane w tym samym dniu przesyłką kurierską zwykłą lub ekspresową w zależności od wybranej opcji.

Koszt wysyłki uzależniony jest od wymiarów i wagi paczki i wynosi już od 11, 95 EUR (przesyłka kurierska – UPS).Dostępna jest również opcja przesyłki ekspresowej z dostawą w następny dzień roboczy.
Gwarancja
Proszę kliknąć tutaj, aby zapoznać się z zasadami dotyczącymi gwarancji.