Książka: "Tattoo prodigies", t. 2, Mike DeVries
SKU BK-MDV-PRODIGIESV2
Produkt dostępny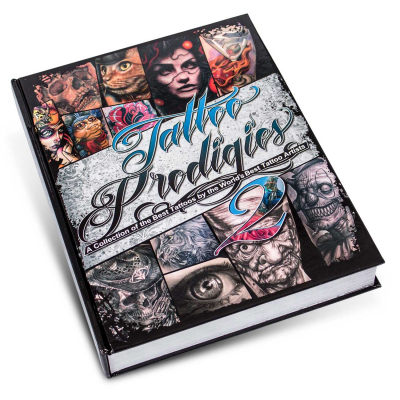 Książka: "Tattoo Prodigies 2: Collection of the Best Tattoos by the World's Best Tattoo Artists".
To fenomenalne wydawnictwo powstawało przez dwa lata, ale warto było czekać! 600 stron w pełnym kolorze, 170 starannie dobranych tatuatorów, ponad 2000 zdjęć, 68 wywiadów.
W "Tattoo Prodigies 2" znajdziesz dwa razy tylu artystów i dwa razy więcej stron co w pierwszej części, a cena pozostała niezmieniona! Obecnie w branży działa wielu bardzo utalentowanych tatuatorów; książka "Tattoo Prodigies 2" prezentuje wybór najlepszych z całego świata, ilustrując ich pracę barwnymi galeriami pięknych tatuaży. Zawiera też inspirujące historie i wywiady, w których pada wiele bardzo nietypowych pytań - przeczytaj i przekonaj się, jakich.
Wśród artystów znaleźli się: Guy Aitchison,Victor Portugal, Jeff Gogue, Steve Moore, Bob Tyrrell, Jesse Smith, Nick Baxter, Myke Chambers, Shige, Mike DeVries, Stephane Chaudesaigues, Cory Norris, Carlos Torres, Roman, Durb Morrison, Josh Woods, Paul Booth, Deano Cook, Jess Yen, Kore Flatmo, Josh Duffy, Juan Salgado, Jim Sylvia, Big Meas, Chris Jones, Darcy Nutt, Nicklas Westin, Tim Harris, Shawn Will, Nate Beavers, Timmy B, Jeff Ensminger, Jason Butcher, Oleg Turyanskiy, Carl Grace, Mike Demasi, Monte, Bez, Benjamin Laukis, Bj Betts, Paul Acker, Stefano Alcantara, Frank La Natra, Big Gus, Randy Engelhard, Liz Cook, Julio Rodriguez, Timothy Boor, Rich Pineda, Tanane Whitfield, JP Wikman, FrancoVescovi, Elvin Yong, Megan Hoogland, Bugs, Carlox Angarita, Jim Hayek, Liorcifer, Crispy Lennox, Brent Olson, Fernie Andrade, Tater, Shane Gallagher, Mike Parsons, Kari Barba, Don McDonald, Dillon Forte, Aric Taylor, James Tex, Sean Sullivan, Dan Henk, John Anderton, Fabz, John Barrett, Robert Pho, Sean Herman, Jason Stephan, Teneile Napoli, Sam Clark, James Kern, Jeremiah Barba, Zack Singer, Tony Ciavarro, Robert Atkinson, Megan Massacre, Jack Ribeiro, DJ Minor, Brad Bako, Marc Durrant, Benjamin Moss, Daniel Chashoudian, Andrzej Lipczynski, Tommy Lee Wendtner, Jay Wheeler, Big Sleeps, Dongkyu Lee, Ryan Mullins, London Reese, Michele Wortman, Cory Cudney, Dan Hazelton, Andy Engel, Mikko Kiviranta, Fishero, Byron Drechsler, Christian Perez, Matt Jordan, Aaron Bell, Ivano Natale, Katelyn Crane, Niki Norberg, Oddboy, Paolo Acuna, Tim Kern, Ryan Hadley, Ken Patten, Justin Hartman, Adrian Dominic, Dominick McIntosh, Tim McEvoy, Ivan Stankov, Steve Morris, Mario Rosenau, Katherine 'Tatu Baby' Flores, Anabi, Ty McEwen, Jamie Lee Parker, Andre Acosta, Sergio Sanchez, Steve Wimmer, Bullet BG, Josh Payne, Jose Perez Jr., Tommy Montoya, Matteo Pasqualin, Javier Obregon, Sweet Laraine, Chad Chase, Nate Banuelos, Antonio Macko Todisco, Mike Rubendall, DmitryVision, Montalvo, Fernando Fly, Carson Hill, Larry Brogan, Seunghyun Jo, Tom Strom, Ron Russo, Darren Wright, Andrey Barkov, Evan Olin, Ron Meyers, Mike Riina, Tomasz Tofi Torfinski, Silvano Fiato, Delaine Neo Gilma, John Wayne, Craig Gardyan, Jack Rudy, Shane O'Neill, Robert Kane, Nikko Hurtado.
Szczegółowa charakterystyka produktu:
Wymiary (cm): 33 x 25
Oprawa twarda
600 stron
Ta książka to nie tylko uczta dla oka kolekcjonera i tatuatora, ale także jedyny w swoim rodzaju motywator do nauki i dalszego rozwoju. Kup już dziś i udaj się w inspirującą podróż!
Dostawa
Wszystkie zamówienia złożone i opłacone przed godziną 16:00 (w dzień roboczy) zostaną wysłane w tym samym dniu przesyłką kurierską zwykłą lub ekspresową w zależności od wybranej opcji.

Koszt wysyłki uzależniony jest od wymiarów i wagi paczki i wynosi już od 11, 95 EUR (przesyłka kurierska – UPS).Dostępna jest również opcja przesyłki ekspresowej z dostawą w następny dzień roboczy.
Gwarancja
Proszę kliknąć tutaj, aby zapoznać się z zasadami dotyczącymi gwarancji.