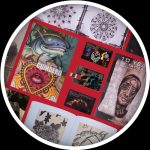 Looking for high-quality reference materials for your next tattoo? We have a killer range of tattoo reference books, DVDs and USBs in stock at Killer Ink!
Our tattoo reference book collection comprises publications from Out of Step Books, Illustrated Monthly, Tattoo Life, and many of the world's most renowned tattooists, including our sponsored artist Anrijs Straume.
Our great range of tattoo reference DVDs includes the full TattooSoul collection, featuring tutorials from some of the best tattooers around.
We also stock USBs containing three volumes of skull references from Boris Tattoo of Hungary. The perfect choice for tattoo artists who want to recreate realistic skulls on the skin.
No matter what type of media you're interested in, whether it be books, DVDs or USBs, our selection contains the perfect tattoo reference materials for artists of any skill level, no matter what style you work in or whether you prefer colour or black and grey!
Our tattoo reference books, DVDs and USBs also make great stocking fillers for the artist in your life! (Christmas will be here before you know it…)

Wrzesień 17, 2020

Wrzesień 17, 2020

pl

https://www.killerinktattoo.pl/skin/frontend/killer/default/images/logo.svg

https://www.killerinktattoo.pl/