Rapizyme - Enzymatyczny środek czyszczący, 1L
SKU RAPIZYME-1L
Produkt dostępny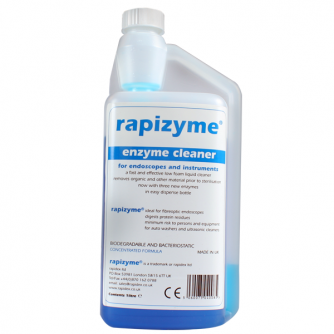 Wystarcza do sporządzenia 500 L gotowego roztworu.
Idealny środek czyszczący sprzęt przed sterylizacją, a także do namaczania i płukania w myjkach ultradźwiękowych.
Trzy aktywne enzymy
Rapizyme to bardzo silny środek rozpuszczający, jednocześnie pozwalający na kompletne usunięcie poprzez płukanie.
Rapizyme jest mimo swojej efektywności delikatny i dobrze obchodzi się z wrażliwym na działanie środków czyszczących sprzętem; nie jest żrący i nie powoduje korozji.
Rapizyme rozkłada osady białkowe, usuwa zaschniętą krew i inne organiczne zanieczyszczenia.
Rapizyme to środek o specjalnej formule, zawierający enzymy proteolityczne.
Dostawa
Wszystkie zamówienia złożone i opłacone przed godziną 16:00 (w dzień roboczy) zostaną wysłane w tym samym dniu przesyłką kurierską zwykłą lub ekspresową w zależności od wybranej opcji.

Koszt wysyłki uzależniony jest od wymiarów i wagi paczki i wynosi już od 11, 95 EUR (przesyłka kurierska – UPS).Dostępna jest również opcja przesyłki ekspresowej z dostawą w następny dzień roboczy.
Gwarancja
Proszę kliknąć tutaj, aby zapoznać się z zasadami dotyczącymi gwarancji.