Rękawiczki lateksowe bezpudrowe Unicare kremowe, 100 szt.
SKU GLOVES-UNICARE-LAT-CRM
Produkt dostępny
Tylko %1 pozostał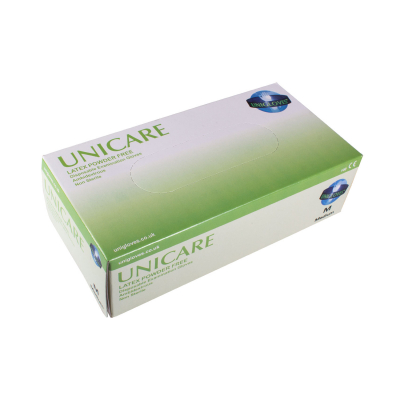 Z UWAGI NA PANDEMIĘ COVID-19, PRODUCENCI SPRZĘTU HIGIENICZNO-OCHRONNEGO PODNIEŚLI ZNACZNIE CENY WYROBÓW. MAMY NADZIEJĘ, ŻE TO WYŁĄCZNIE PRZEJŚCIOWA ZMIANA.
Rękawice lateksowe Unicare Soft to wysokiej jakości produkt, odpowiedni do szeregu zastosowań w branżach pielęgnacyjnych, sanitarnych i przemysłowych. Rękawice lateksowe to najwyższa wygoda, elastyczność i przyczepność, wysoka odporność na czynniki biologiczne oraz powszechnie stosowane chemikalia; brak przeciwwskazań do długotrwałego noszenia.
Pakiet 100 szt.
Oburęczne
Dostępne rozmiary: XS do XL
Dostawa
Wszystkie zamówienia złożone i opłacone przed godziną 16:00 (w dzień roboczy) zostaną wysłane w tym samym dniu przesyłką kurierską zwykłą lub ekspresową w zależności od wybranej opcji.

Koszt wysyłki uzależniony jest od wymiarów i wagi paczki i wynosi już od 11, 95 EUR (przesyłka kurierska – UPS).Dostępna jest również opcja przesyłki ekspresowej z dostawą w następny dzień roboczy.
Gwarancja
Proszę kliknąć tutaj, aby zapoznać się z zasadami dotyczącymi gwarancji.